Like Australia, Singapore recently lifted long-standing COVID-19 travel restrictions. Vaccinated Travel Lanes (VTLs) were instated to eliminate quarantines upon arrival into the country. But with new variants making headlines, procedures are being amended often. With so many changes underfoot, we wondered how Singaporeans feel about upcoming holiday celebrations and the opportunity to travel internationally.
Vaccinations and Travel
Singapore has one of the world's highest COVID-19 vaccination rates. 92% of Singaporeans we polled said they were at least partially vaccinated. In correlation, 85% of Singaporeans also believe people should be required to be vaccinated to be able to travel internationally. 
Despite their vaccinations, Singaporeans are also less likely to have travel plans for the holidays than the Australians and Americans that we recently polled. 66% will not be traveling this holiday season. When using the PureSpectrum Insights Platform to filter respondents by gender, Singaporean women are much less likely to have made holiday travel plans than men.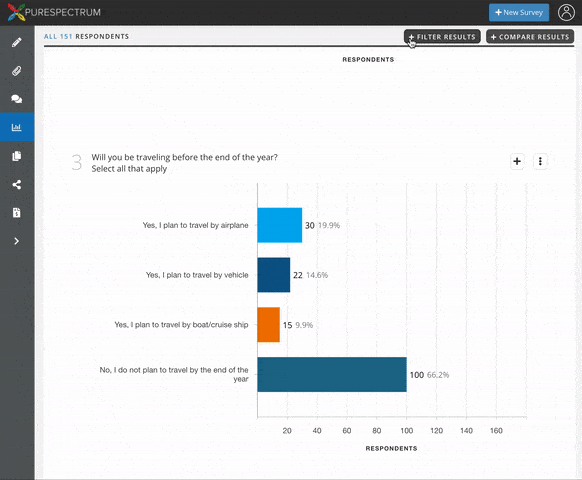 But 25% of Singaporeans say they do plan to travel internationally before the end of the year. Another third of Singaporeans are looking to travel internationally with the next six months but are waiting to learn more about changing regulations before booking travel. When asked to rate their comfort level with fellow countrymen traveling, only 44% currently report feeling comfortable.
VTLs and Airline Trust 
Earlier this month, the VTLs amended their policy and now require 7 days of testing when a resident returns to the country And while mandates like these are not common in other countries, it seems like a majority of Singaporeans agree. 63% of Singaporeans are in favor of the new regulations of testing. When asked if the Singapore government is taking enough safety precautions to protect Singaporeans from COVID-19, 71% of respondents said yes. 
Singaporeans are less trusting when it comes to airlines. Only 54% of respondents said that they believe airlines are taking the proper precautions to protect travelers from COVID-19. And only 42% said they currently feel comfortable flying in a plane. 
Holiday Celebrations
Singaporeans are still taking COVID-19 precautions very seriously. Only 56% said they plan to celebrate the upcoming holidays with people outside of their households. This is significantly lower than the 74% of Australians who recently answered a similar poll question. However, when asked to rate their comfort levels about gathering in small groups only 26% of Singaporeans say they feel uncomfortable. 
It seems that many celebrations in Singapore will remain small at the close of the year. As the world continues to watch and adjust to COVID-19 variants, a majority of Singaporeans feel comforted that their government is adjusting regulations to keep them safe. No matter where you are in the world, we wish you a healthy and safe end to 2021.  
Curious to dive deeper into our data set? Email lester@purespectrum.com
Want to learn more about running your own survey? See how easy it is on our Insights Platform.
Methodology
PureSpectrum interviewed 151 online respondents on December 10, 2021, using the PureSpectrum Insights Platform. The platform is integrated with the PureSpectrum Marketplace which combines proprietary measurement tools and third-party data validation to quickly collect high-quality insights. The study was fielded, cleaned, and ready for analysis in under 4 hours. We targeted respondents within Singapore and consisted of a general population audience of 18+ years old. This study uses a 95% confidence level to examine the data.